ECADC Newsletter March 2016
Tallinn
Tallinn Music Week (TMW) returns at the end of March with TMW Arts events to attend all around the city. Tallinn Tuesdays, a series of joint opening events among a group of Tallinn-based galleries, will take place on Tuesday, 29 March. All galleries will be open for extended hours from 5pm to 9pm, including an exhibition co-curated by Lilli Krõõt-Repnau and Francisco Martinez, as well as exhibitions of Sigrid Viir and Jimmy Limit, Art Nõukas and Helena Keskküla, artist talks, and much more. Kris Lemsalu's and Tiit Pääsuke's exhibition "Beauty and The Beast" at Tallinn Art Hall will be accompanied by a range of public programmes both in Estonian and English. The full TMW Arts programme is available here.
Brussels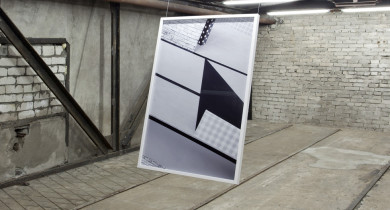 Anu Vahtra, 17,9° Installation view, EKKM/Museum of Contemporary Art, Estonia, 2014
In April more contemporary art from Estonia will be on view in Brussels than in Tallinn. This year's edition of the contemporary art fair Art Brussels will take place from 22-24 April and its exhibitors include Temnikova & Kasela gallery, with presentations by the artist collective Visible Solutions LLC and Flo Kasearu, and EKKM (Museum of Contemporary Art, Estonia), with a solo presentation by Anu Vahtra. Ani Molnar gallery will participate in the art fair with a presentation by Marge Monko. Together with the publishing initiative Lugemik, Marge Monko will also participate in the alternative art fair Poppositions with a series of performances. Favorably reviewed on the pages of the New York Times this autumn, the dining experience Eating the Forest, inspired by Nordic cuisine that relies on food from the forests, will be re-enacted in Brussels. The Estonian Contemporary Art Development Center (ECADC) will be hosting two art-and-food soirées – one for Belgian art collectors and another for a group of international curators, who will be visiting Brussels on the invitation of the Art Brussels art fair.
Beijing
 Merike Estna, Travelling with a Painting (video still), 2014
An exhibition dedicated to Estonian art will be opening in Beijing, China, on 30 April. The exhibiting artists include Kris Lemsalu, Merike Estna, Sigrid Viir, Paul Kuimet, and Katrin Koskaru, and it will coincide with A Taste Of Estonia – Nordic With A Twist, a weeklong series of events promoting Estonian culture, including cuisine, music, and design.
Buenos Aires
In May a film programme of Estonian artists' films and videos, compiled by the young Brazilian curator and gallerist Taina Azeredo, will be shown at arteBA art fair in Buenos Aires, Argentina. Taina visited Estonia in October as a participant in the Curatorial Program for Research. The 25th edition of arteBA will take place from 18-22 May.
Basel
 Kris Lemsalu, proposal for Temnikova & Kasela gallery at Liste 2016
For the second time the exhibitors of Liste – The Young Art Fair in Basel, Switzerland, will include Temnikova & Kaseala gallery presenting new work by artists Inga Meldere and Kris Lemsalu, who plans to build a skateboard ramp for "cool girls without hands". The 21st edition of Liste art fair will take place from 14-19 June.
Events
– The arts magazine New Number/Uus Number will be launched on Saturday, 5 March, 6pm, at Kultuurikatel (Põhja pst 27a).
– We will be visiting Tanja Muravskaja's studio at Vabaduse väljak on Thursday, 10 March, 6pm. Please RSVP martina@ecadc.ee if you would like to join us.
– The Spanish curator Pau Waelder will give a lecture on art market in the digital era on Monday, 14 March, 5.30 pm, in the former ARS building (Pärnu mnt 154).