ECADC Newsletter November 2014
ECADC is wrapping up a busy fall season – while finding internship partners for our new group of Gallerist Master Course graduates, we're looking into creating a market for emerging artists with new platforms, drafting a document of gallerist standard business practices together with our partner galleries, and interviewing Max Schumann, the director of Printed Matter in New York.  In addition, we have news from Istanbul, Paris, Turin, and Miami.
SUCCESSFUL 6-DAY GALLERIST MASTER COURSE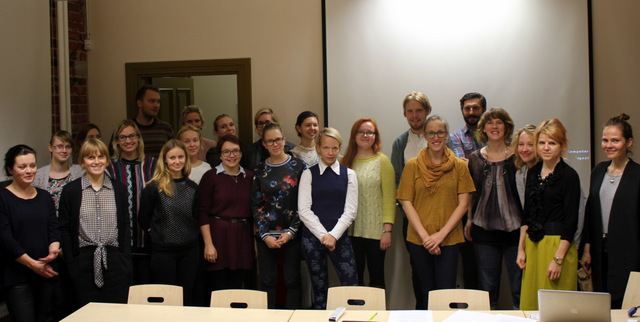 Gallerist Master Course group photo, photo: Ester Urbala
From October 3-10, we organized the second Gallerist Master Course (GMC) at the Institute of Art History in Tallinn.  Under the guidance of Ilaria Bonacossa (Genova), Nur El Shami (London), and Kirstie Skinner (Edinburgh), 35 course participants – from practicing gallerists to young professionals and art history students – took part in three modules spread across six days of instruction.  The course focused on introducing art markets, various artist representation models from the traditional gallery model to web context, building an audience, communication in contemporary art, and philanthropic activity. One of the most popular seminars was led by Nur EL Shami, who led participants in the drafting of an exhibition project with 10 artists, a budget, production schedule, communication plan, and presentation to possible sponsors.  Three Estonian course participants will be selected to receive offers for international internships in 2015.
MARKET FOR EMERGING ARTISTS
 Art Fair "Showing/Selling" by Rundum, photo: Kristina Õllek
In October three initiatives took place in Tallinn and Tartu that have focused on creating a market for emerging artists.  The tenth Tartu Auction for Emerging Artists, the fifth Photo Fair, and the youngest initiative – "Showing/Selling" by Rundum – all served to increase the circle of mid-level buyers.  While the Tartu auction saw an increase in sales and prices compared to last year, the sales at Photo Fair were modest but the event itself broke attendance records.
GALLERIST STANDARD BUSINESS PRACTICES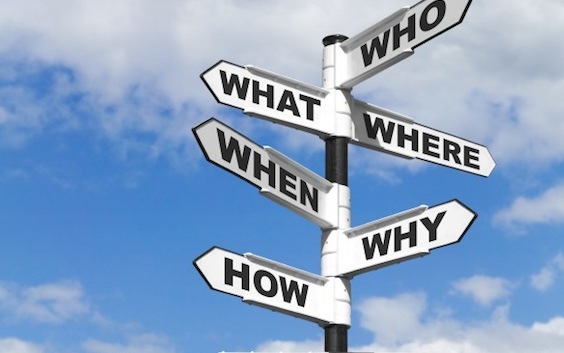 In October ECADC invited gallerists and artists for a meeting to formulate the principles for contemporary (commercial) galleries to follow in their everyday professional work.  Based on the galleries' financial possibilities, time, knowledge, and expertise, there are different ways for artists and gallerists to collaborate.  But how would artists and gallerists benefit if, instead of rental galleries and consignments, there would be proper gallery representation for artists?  Most of the participants did not see the necessity for exclusive representation contracts so instead we collectively formulated a number of everyday processes that could be improved upon – pricing, and competition between galleries, among others.  Those guidelines that are in accordance with generally accepted principles from the international gallery community will be published in December.
NEW TYPE OF NETWORKING EVENT IN ISTANBUL 
Artist talk with Marko Mäetamm and Kaido Ole in Istanbul, photo: Olga Temnikova
Istanbul art collectors Ayşe Umur and Agah Uğur hosted Kaido Ole´s and Marko Mäetamm´s joint exhibition "Meaning of Life" at the end of October.  Exhibited works included Kaido´s new paintings, Marko´s comics from the series "Painting & Waiting," and new lithography works that a wider audience has the chance to see at NADA Miami Beach art fair in December.  Above all, the event was focused on local art collectors and included an artist talk moderated by NEV gallery director Ibrahim Cansizoglu from Istanbul.  We can consider this new type of event a success since the exhibition was invited to be part of the Contemporary Istanbul fair satellite program.
INTERVIEW WITH PRINTED MATTER
Paul Kuimet and Laura Toots at NY Art Book Fair with Lugemik, photo: Indrek Sirkel
In September publishing house "Lugemik" participated in the NY Art Book Fair at PS1 MoMA in New York for the second time.  Design critic Sandra Nuut interviewed fair curator Shannon Michael Cane and Max Schumann, Executive Director of Printed Matter, Inc. Topics discussed included What is an artist book, Where do the best books come from, and Why to organize exhibitions at a book fair.  Read the fascinating interview here.
ECADC NEW VIDEO CLIPS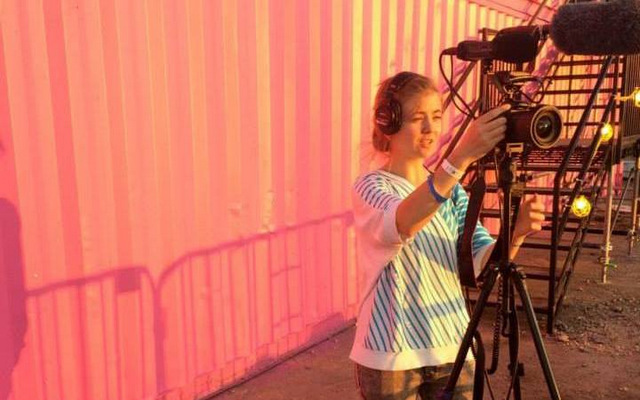 Piibe Kolka at Photoville festival, photo: Karin Laansoo
We are pleased to collaborate with New York-based film producer Piibe Kolka, who keeps an eye on Estonian artists in two formats – "On Site" goes in the middle of important events by ECADC or our partners, and  "Curators Choice" documents international curator visits to Estonian artists' studios.  Rainer Aasrand is filming in Tallinn.  Videos are bilingual and aim to help to bring Estonian artists closer to an international audience and events abroad closer to the local Estonian audience.  An interview with Photoville festival participant Annika Haas and an overview of the NY Art Book Fair are available on our website or from the ECADC vimeo channel. Soon Nur El Shami´s interview with painter Kristi Kongi and reportage from the opening of the new Estonian Art Academy gallery space will be uploaded.  Stay tuned!
NEWS
November 7 – December 6
One Art Space gallery in New York opens an exhibition "100 Painters of Tomorrow," where Kaido Ole was chosen to participate.  Beers Contemporary gallery has also initiated a second exhibition that opens on November 27 in London. Both exhibitions are accompanied by a voluminous catalog published by Thames & Hudson.
November 7 – 9
Ani Molnár gallery is participating in Artissima art fair in Turin, Italy  with works by Dénes Farkas and Marge Monko, who joined the gallery recently.
November 13 – 16
Contemporary Istanbul art fair has included the exhibition by Kaido Ole and Marko Mäetamm at collectors Ayşe Umur´s and Agah Uğur´s residence in its VIP program.
November 14 -16
Small publishing house "Lugemik" is participating in "Offprint Paris" bookfair, where they present two new books – Tõnis Saadoja monograph and Jaanus Samma "Hair Sucks."
December 4 – 7
Temnikova & Kasela gallery is participating at NADA Miami Beach art fair and exhibiting works by Marko Mäetamm and Merike Estna.