ECADC Newsletter September 2016
Call for Applications: Gallerist Master Course 2016
ECADC will be holding its third Gallerist Master Course from September 21st to October 2nd. The eight-day intensive course will give both emerging and practicing gallerists and arts managers an opportunity to learn from the professional experience of four internationally-recognized experts in their fields. For this year's Gallerist Master Course, ECADC will be hosting Alessia Zorloni, a cultural economist and consultant specializing in art markets; Sol Pochat, artist and founder of the HILO Galeria in Buenos Aires, Argentina; Andrew M. Goldstein, Editor-in-Chief of Artspace in New York, and Fatos Üstek, London-based independent curator.
The deadline for applications is September 12, 2016 and the application form can be downloaded here.
Estonian Art Books in New York
The NY Art Book Fair will return to its home at MoMA PS1from September 16th to 18th. Tallinn-based independent publisher Lugemik is preparing for the launch of several of their new publications at the fair, including the first monograph of the Estonian painter Alice Kask (with graphic design by Mikk Heinsoo) and an artist book Towards Nothing by the Finnish photographer Mikko Rikala (with graphic design Tuomas Kortteinen). Lugemik will also be introducing its first collaborative project with independent publishers Knock! Knock! Books (graphic design by Loore Sundja and Else Lagerspetz), and in collaboration with the Centre for Contemporary Arts in Estonia, Raul Meel's artist book Apocrypha. With the Art Book Fair breaking the attendance record for MoMA PS1, we can expect tens of thousands to come out for this year's event.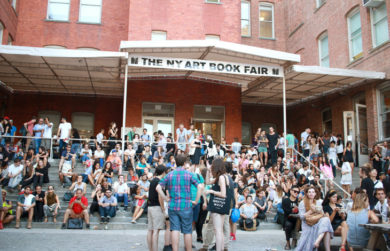 NYABF15. Photo: Desilu Muñoz
Photographic Art Fair 2016
The Photographic Art Fair, led by the Union of Estonian Photography Artists, returns to the Green Hall of Telliskivi Creative City from September 29th to October 2nd. 34 artists from Estonia and abroad have been selected through an open call to participate in the fair. Alongside a galleries section, including Haus, galerii galerii, Positiiv, and Temnikova & Kasela, this year's Photo Fair will also feature a nonprofit section, including the Narva artist residency program and the artist-led project space Rundum.
For more information on the 2016 Photographic Art Fair and the artists please see http://www.fotokuu.ee.
Avangard at Art Copenhagen art fair
The gallery Avangard debuted at Art Copenhagen from August 26 to 28, 2016. The focus of the gallery's presentation was on the Soviet avant-garde, with works by Leonhard Lapind and Raul Meel. Lapin's work will be on view at Manchester-based Paper Gallery towards the end of the year, while Meel's work has found its way into the curatorial practice of the Swedish art historian and curator Thomas Millroth.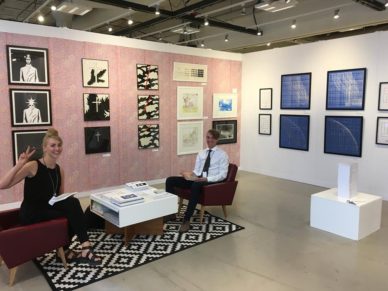 Avangard gallery at Art Copenhagen art fair, 2016
Anu Vahtra in Budapest and Vienna
On September 8th, Anu Vahtra will open her first solo show titled Forms of Adaption. This space is intentionaly left blank at Chimera-Project in Budapest. The gallery will also represent Vahtra at the upcoming art fair Vienna Contemporary. Following her artist's book in 2015, Vahtra's exhibition has taken as its point of deptarture the pages intentionally left blank in her book.
Anu Vahtra, installation view, Kjubh Kunstverein, Cologne, 2016
Open Call: 7th Tallinn Applied Art Triennial
The 7th Tallinn Applied Art Triennial will be accepting submissions until September 30, 2016. The theme of the upcoming Triennial is Time Difference, and the open call welcomes submissions from artists and collectives from all fields of applied art and design.
For more information please see http://www.trtr.ee/open-call/
Marit Ilison, 70 cotton smocks, performance at Estonian Applied Arts and Design Museum, 2012