April 2018 News
View of the exhibition 'You Know You've Become Part of the View' by Kristina Õllek and Kert Viiart at Hobusepea Gallery, 2017. Courtesy of the artists. Photo: Kristina Õllek
Kristina Õllek and Kert Viiart in Riga
Kristina Õllek and Kert Viiart are participating in Riga Photography Biennial's main exhibition 'Screen Age I: Self-Portrait'. The exhibition, curated by Inga Brūvere (LV), Marie Sjovoldi (NO) ja Aiga Dzalbe (LV), focuses on how technologies influence and change us. In addition to a new work 'Displacer In Use' (2018), Kristina Õllek also presents her video 'The Real Thing' (2017) in Riga, and the installation 'Displacers' (2017), which is a collaboration between the two artists and was on view at the exhibition 'You Know You've Become Part Of The View' at Hobusepea Gallery during Tallinn Photomonth 2017.
In addition to Õllek and Viiart, Taavi Suisalu's installation 'Distant Self-Portrait' (2016) is part of the exhibition of Riga Photography Biennial Award 2018 'Seeking the Latest in Photography!' and Margus Tamm's works have been included in the outdoor project 'I Want You!'.
Open: April 13th to May 13th, 2018
Address:  Riga Art Space, Kungu 3, Riga
Web: rpbiennial.com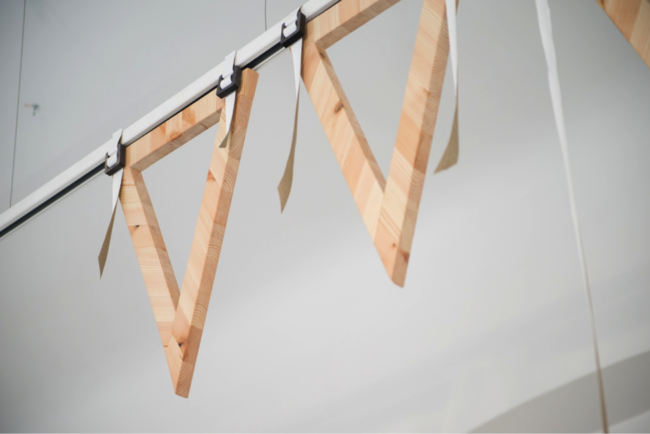 Detail from Mihkel Ilus' exhibition 'Stick It In Your Wall' at Hobusepea Gallery, 2017. Courtesy of the artist. Photo: Johannes Säre
Mihkel Ilus in Bergen and Helsinki
Mihkel Ilus will open his solo exhibition 'How Else Can I Put It?' at Hordaland Kunstsenter, Bergen. This exhibition, curated by Siim Preiman, is a further development of the processes which started with the 2017 exhibition 'Stick It In Your Wall' at Hobusepea Gallery in Tallinn – creating spatial installations through the magnification and recycling of different parts of painting, e.g. canvas, tenons, oil paint. The exhibition is co-produced by Hordaland kunstsenter and Tallinn Art Hall.
In addition to the exhibition in Norway, Mihkel Ilus and Henri Hütt will present their performative installation 'Caprices III' at Kiasma in Helsinki twice in April. The performance, the first two parts of which were presented in Estonia, is part of the Kiasma theater platform 'performance_now'.
Exhibition in Bergen:
Open: April 13th to June 3rd, 2018. Opening on Friday, April 13th.
Address: Hordaland Kunstsenter, Klosteret 17, Bergen
Web: kunstsenter.no
Performance at Kiasma:
Open: April 6th and 7th at 7pm. Meeting with the artists will take place on Saturday, April 7th
Address: Kiasma Contemporary Art Museum, Mannerheiminaukio 2, Helsinki
Web: kiasma.fi
Eléonore de Montesquiou 'Babylon', 2017, video still. Courtesy of the artist and Contemporary Art Museum of Estonia (EKKM)
Eléonore de Montesquiou and Contemporary Art Museum of Estonia (EKKM) in Brussels
Contemporary Art Museum of Estonia (EKKM) is participating in POPPOSITIONS off-fair presenting a project called 'EKKM's E-residency #1: Residency & non-residency'. The project is produced by artist Eléonore de Montesquiou and Contemporary Art Museum of Estonia (EKKM) and it focuses on the topics of (national) residency and non-residents. Being an already established buzzword, "e-Residency" as a governmental project has become to symbolise Estonia's aim in creating a 'new digital nation' by providing digital citizenship and access to its digital services for all interested parties wherever they are physically situated. As the slogan goes: 'E-Residency is a new digital nation for global citizens, powered by the Republic of Estonia.'
The project is part of the Estonia 100 art programme.
Open: April 19th to 22nd, 2018
Address: former Ateliers Coppens, Place du Nouveau Marché aux Grains 22-23 Nieuwe Graanmarkt, 1000 Brussels
Web: poppositions.com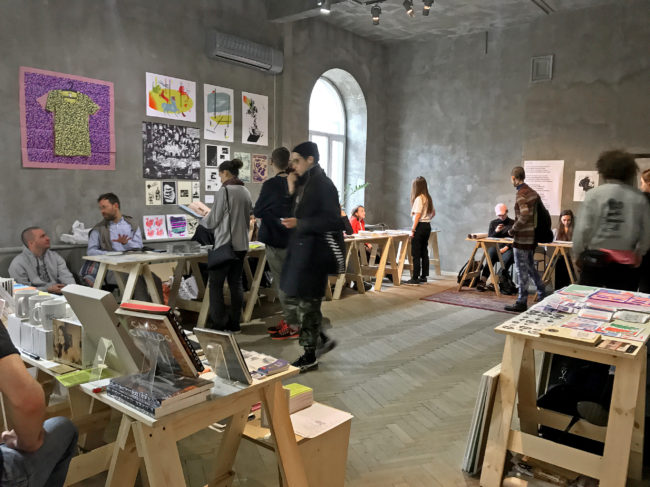 ГРАУНД зин фест 2017. Photo: Indrek Sirkel
Lugemik in Brussels and Moscow
Lugemik Publishing is presenting 'Notes on Space. Monumental Painting in Estonia 1947–2012', a book with photographs by Paul Kuimet and texts by Gregor Taul, at Wiels contemporary art center in Brussels. The book consists of 94 Paul Kuimet's black and white photographs of Estonian monumental art, as well as texts and an essay written by Gregor Taul specifically for the international audience.
For the second year in a row, Lugemik Publishing is also participating in the Moscow International art book festival and conference ГРАУНД зин фест, which brings together over 50 independent publishing houses, collectives and book stores.
Launch in Brussels:
Open: April 20th, 2018
Address: Wiels contemporary art center, Av. Van Volxemlaan 354, 1190, Brussels
Web: wiels.org
Fair in Moscow:
Open: April 27th to 29th, 2018
Address: ГРАУНД Песчаная, ул. Новопесчаная, д. 23, к. 7, Moscow
Web: groundmoscow.com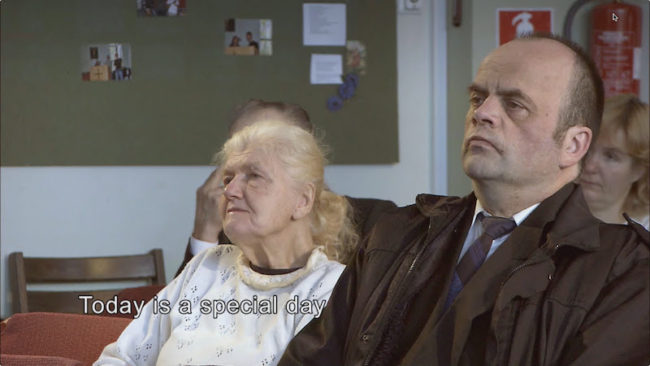 Jaan Toomik 'Communion', 2007, video still. Courtesy of the artist and Temnikova & Kasela Gallery
Jaan Toomik in Helsinki, Riga and Amsterdam
Kohta, one of the newest galleries in Helsinki, is showing video works by Jaan Toomik until the end of April. In parallel to Toomik's videos 'Jaanika' (2007), 'Communion' (2007) and 'Untitled Action' (2015), the gallery presents installations by Swedish artist Astrid Svangren. In addition, Jaan Toomik's solo exhibition 'Theatre of Gestures' is open at Mūkusala Art Salon in Riga until mid-April. It is curated by Andris Brinkmanis and presents a selection of Toomik's paintings from the last decade.
Works by Toomik are also on display at the exhibition 'Freedom is Recognized Necessity' at Stedelijk Museum in Amsterdam. The exhibition presents a selection of works in the museum's collection by artists from former Soviet countries.
Exhibition in Helsinki:
Open: March 8th to April 29th, 2018
Address: Kohta, Teurastamo, Työpajankatu 2 B, Helsinki (building 7, 3rd floor)
Web: kohta.fi
Exhibition in Riga:
Open: February 15th to April 12th, 2018
Address: Mūkusala Art Salon, Mūkusalas iela 42, Riga
Web: mmsalons.lv
Exhibition in Amsterdam:
Open: March 3rd to August 12th, 2018
Address: Stedelijk Museum, Museumplein 10, 1071 DJ, Amsterdam
Web: stedelijk.nl
Open in April:
Baltic contemporary art exhibition in Helsinki
Jaanus Samma in Tornio (until April 15th)