February 2017 News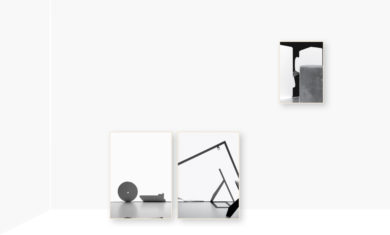 Anu Vahtra, "Untitled (Shadows of Others)", 2013/2016. Courtesy of the artist
Anu Vahtra in Zurich
Annex14 gallery will be opening a group show featuring works of Anu Vahtra, Petra Koehle/Nicolas Vermoti (CH), Michel Sauer (DE), and Christian Vetter (CH). Anu will show new work specially commissioned for the exhibition, as well as her series "Untitled (Shadows of Others)" from which the exhibition also takes its title.
Open: February 4th – March 11th 2017 with a private view on Friday, February 3rd from 6pm
Address: Annex14, Hardstrasse 245, Zürich
Web: www.annex14.com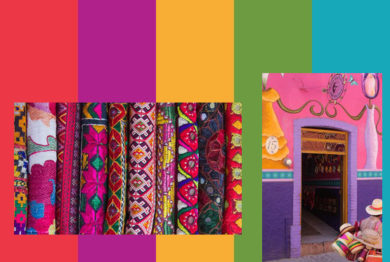 Kristi Kongi, preparatory material, 2017. Courtesy of the artist
Kristi Kongi in Mexico City
Kristi Kongi is starting a three-week research trip to Mexico this February. She is visiting the country on the invitation of the Mexico City based curators Gabriel Mestre and Leslie Moody Castro, who were in Estonia for research trips of their own this past year. Kristi will be using her time in Mexico to prepare for her upcoming exhibitions.
Paul Kuimet, preparatory material, 2017. Courtesy of the artist
Paul Kuimet in Kassel
People of Kassel can see a selection of photographs from Paul Kuimet's series "Notes on Space" displayed on large-scale billboards around the city. Documenting mainly Soviet-era monumental art in Estonia, the intervention questions the role of images in the urban environment. The project is edited by Eva-Maria Offerman and Jacob Birken.
Open: February 1st – 9th, 2017 with a private view at Neue Galerie on Thursday, February 2nd from 7pm
Address: Neue Galeria, Schöne Aussicht 1, Kassel (private view only), and public spaces around the city of Kassel
Web: www.notesonspace.de
Tõnu Tunnel, "Untitled" from the series "bright black/pitch white", 2013. Courtesy of the artist
Estonian photographers in Dusseldorf
For the sixth edition of Dusseldorf Photo Weekend, Raumsech gallery will be presenting an exhibition of Estonian artists, who mainly work in the medium of photography. Titled "A Visit from Tallinn", the exhibition features former recipients of Artproof Grant Estonia including Renee Altrov, Karel Kravik, Tõnu Tunnel, Sigrid Viir, Maxim Mjödov, and Hanna Rast.
Open: February 3rd – 5th, 2017 with a private view on Friday, February 3rd from 6pm
Address: Raumsech, Hansaallee 159, Düsseldorf
Web: www.duesseldorfphotoweekend.de/?lg=en
Flo Kasearu in Mexico City and Hyrynsalmi
A documentary video of Flo Kasearu's performance "House Music" will be screened at Museu Nacional de Arte in Mexico this February. Conceived together with the actress Riina Maidre, Flo's video documents a performance that engages with the local community of the Pelgulinn district in Tallinn, and has been selected by the Mexican curator Gabriel Mestre to screen in the video program titled "Enjambre" ("Swarm"). Flo herself has instead opted for a colder climate, as she has been invited to participate in Mustarinta residency in Hyrynsalmi, Finland, this month.
Open: Tuesday, February 7th, 2017 from 12am to 6pm
Address: Museu Nacional de Arte, Tacuba 8, Centro Histórico, México
Web: www.munal.mx/en/evento/enjambre-swarm
www.mustarinda.fi/en/society/residency
Merike Estna, "I can't possibly focus", 2016. Courtesy of the artist, Karen Huber, and Temnikova & Kasela gallery
Merike Estna in Mexico City
Mexcio City based Karen Huber gallery will be featuring Merike Estna at this year's Zona Maco art fair. Merike's recent series of paintings titled "everything I have/everything I had/everything I'm going to have/nothing" will be on view at the New Proposals section of the fair. Collaboration with the gallery started in early 2016 with Merike's solo exhibition "DOMESTICMINDCRAFT".
Open: February 8th – 12th, 2017
Address: Zona Maco México Arte Contemporaneo, Centro Banamex näitusekeskus, Av. del Conscripto 311, Mexico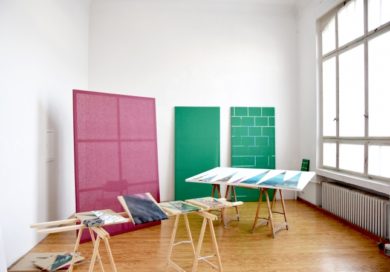 Laura Põld's studio at Ateliers Höherweg e.V.
Laura Põld in Düsseldorf
Laura Põld has been invited to the famed Ateliers Höherweg e.V. as an artist-in-residence. Founded in 1994, the residency includes eleven studios for Düsseldorf-based artists and a twelfth for a foreign artist invited to work at the residency. Laura will be using her three-month residency to dedicate herself to her upcoming exhibitions, one of which will be a collaboration with curator Jussi Koitela for Treignac Project in France.
Duration: January – March 2017
Address: Ateliers Höherweg e.V. Höherweg 271, Düsseldorf
Web: http://www.a271.de/index.php?id=6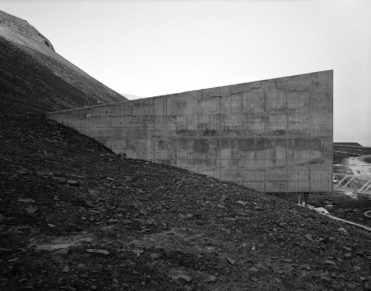 Dénes Farkas, "Untitled", 2016-2017. Courtesy of the artist
Dénes Farkas in Madrid
Sevilla-based Alacron Criado gallery will be featuring Dénes Farkas' work at this year's ARCOmadrid. The series exhibited at the fair has been photographed in the remote Svalbard archipelago and in Terbol, Lebanon, and is related to the artist's forthcoming solo show at the Contemporary Art Museum of Estonia (EKKM), opening on April 21st, 2017.
Duration: February 22nd – 26th, 2017
Address: Feria de Madrid (hall 7 and 9), Av. Del Partenón, 5, Madrid
Web: http://www.ifema.es/arcomadrid_06/