Gallerist Master Course 2020
Course Dates: Module I October 5 – 6 and Module II October 12 – 13, 2020. Modules III and IV will take place in spring 2021. 
Deadline for applications: October 1, 2020.
Organized by the Estonian Contemporary Art Development Center (ECADC), the fifth master course for gallerists will take place this autumn in Tallinn, offering professional training in art management, curating, and gallery management for both practicing and novice art professionals. The aim of the course is to provide participants with knowledge about the dynamics of the processes inside of the art world.
In the Master Course, taking place from October 5th to 13th, art and management specialists will provide participants with diverse knowledge of the international art world and its dynamics. Under the guidance of experienced experts Anna Goetz, Piia Kallas, and Maarin Ektermann, the participants will gain knowledge about various curatorial practices, learn time and self-management, and analyze recent exhibitions that challenge prevailing social narratives.
The 4-day intensive course is open to MA students who are interested in contemporary art or who have previously worked in the field of contemporary art, as well as to practicing gallerists, curators, art dealers, culture organizers, and artists. The working languages of the Gallerist Master Course are English and Estonian. Three graduates will have the opportunity to participate in ECADC's International Internship Program in 2021.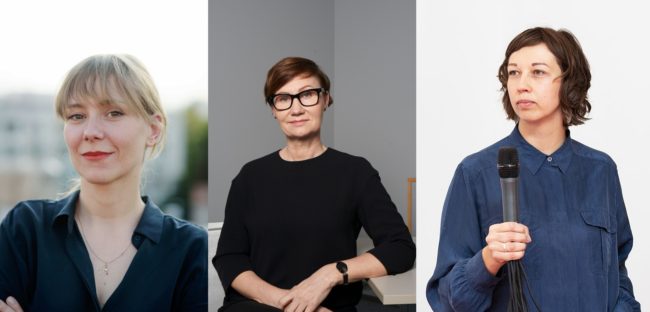 Anna Goetz                          Piia Kallas                             Maarin Ektermann
Module I: Anna Goetz. Curatorial Practice and Decolonial Discourse
October 5 – 6, from 2.30 to 6pm
Contemporary art is global as much as local. It echoes local issues symptomatic of global dynamics. Its organization, however, is defined by institutionalized structures of power and constructs of thinking shaped by modernity and colonization. In the seminar, we will critically analyze different exhibitions or initiatives that try to deconstruct these institutionalized, hierarchical readings and include alternative narratives – this means handing over authority and giving the floor to other voices in order to involve their perspectives and individual experiences. Furthermore, we will openly discuss projects and approaches of our own, and thus, critically reflect on our positions within the art world infrastructure.
This seminar is in English.
Module II: Piia Kallas and Maarin Ektermann. How to Manage Yourself
October 12 – 13, from 2.30 to 6pm
Working life and professional self-fulfillment require constant mental fitness, flexibility, and the ability to cope with several projects in parallel while working with different people. In order to cope with all this, a person should get along well with themself, be able to consciously analyze themself, and understand the impact of their behavior on others. However, this kind of understanding does not only come from a rational standpoint, but also includes a holistic approach to the person, where both inner well-being and knowledge & skills that help to achieve better results are important. A better level of self-management – self-motivation, quick decision-making, coping with stress, not neglecting self-care – ensures better performance and greater satisfaction. This seminar pays special attention to time management, as well as to burnout and its prevention.
This seminar is in Estonian.
Practical information
Location: Kai Art Center, Peetri 12, Tallinn
Fee: Module I and II  €100 / only one Module €60
The application form to register for the Gallerist Master Course can be found here.
Registration is open until October 1, 2020. 
Additional information: kadri@ecadc.ee
Lectors
Anna Goetz, currently based in Mexico City, is a curator and writer. Her recent exhibition projects as an independent curator include a solo show with Banu Cennetoğlu at K21 Kunstsammlung NRW in Düsseldorf and the group show 'Stage Of Maneuvers' with Alia Farid, Claire Fontaine, Gabriella Torres-Ferrer, Georgia Sagri as part of the international curator festival curated by in Vienna (both 2019). She is also curating the new FORO section at ZONA MACO in Mexico City (2020–2022), and has initiated major group exhibitions, such as 'Where do we go from here?' (2019) and 'Casa Tomada' (2018), both in Mexico City. Her last institutional appointment was at MMK Museum for Modern Art Frankfurt (2013–2017), where she curated and co-curated solo exhibitions by Ed Atkins, Laure Prouvost, Florian Hecker, Mathieu Kleyebe Abonnenc, Isa Genzken, and Subodh Gupta. Currently, she is initiating a new Mexico City-based platform for intercultural and process-based dialogue that will serve as a stage to probe institutionalized social constructs and structures that determine our thinking, categorizing and positioning, and to challenge one's own matter of course.
Piia Kallas is an experienced executive with two MA degrees in economics. Piia started her career at Hansapank and continued working in the field of construction and real estate. Her longest-held position was with Riigi Kinnivara, where she was a member of the leadership team for 13 years. For many years, Piia was also one of the shareholders of Estonia's oldest design store Nu Nordik, and she represented the painter Sirje Runge. Today, she advises companies on designing better working environments as part of Scene Consulting and participates in the movement Workplace Evolutionaries Estonia.
Maarin Ektermann is an art worker who has been organizing and mediating contemporary art in various forms for almost 15 years. Her last major projects are Artists in Collections (2017–…), initiated together with Mary-Ann Talvistu, which puts small museums and artists in dialogue; Sigrid Viir's solo exhibition False Vacationer at EKKM (2019), and RESKRIPT, together with Henri Hütt, which is reevaluating the rituals of cultural life at Kanuti Gild's SAAL (2019 – ongoing). In the autumn of 2020, she is also starting a new alternative education platform Proloogkool. On a daily basis, she works at the Estonian Academy of Arts as Director of the Center for General Theory, and hosts a monthly radio programme Kultuuriministeerium (together with Indrek Grigor).
Estonian Contemporary Art Development Center
The Estonian Contemporary Art Development Center (ECADC) is a non-profit foundation focused both on fostering international exposure for artists from Estonia and on developing the contemporary art scene in Estonia. Functioning as an umbrella organization for Estonian partner institutions, the center is creating strategic international partnerships in the field of contemporary art. ECADC is supported by Enterprise Estonia from the European Regional Development Fund and by the Estonian Ministry of Culture.
Kai Art Center
Kai Art Center, opened in September 2019, is the cultural heart of the seaside Noblessner harbor complex – a fascinating melange of regional history, period-tinged architecture, and modern art and culture. In a century-old former secret submarine plant, visitors encounter captivating and thought-provoking exhibitions, art, and cinema, a joint office for cultural organizations. Kai aims to create a cultural quarter that brings the contemporary art experience even closer to the public. Bringing together artists, art and culture professionals, guests, and aficionados, it places emphasis on the importance of promoting Estonian contemporary art both at home and abroad.
Supporters
The Gallerist Master Course is supported by the Estonian Academy of Arts, the European Regional Development Fund, and the Estonian Ministry of Culture.
Gallerist Master Course 2018. Photo: Johan Pajupuu