June 2018 News
Kristina Õllek 'Under Certain Circumstances (Static Synthetic 1.0)', 2018, video still. Courtesy of the artist
Kristina Õllek in Brussels
Kristina Õllek is taking part in a group exhibition 'A brief introduction to psychological anthropology' at the Coherent project room in Brussels. At the exhibition, curated by Maxime Souvent (FR/BE), she will enter in a contemplative dialogue with the works by Alexander Duke (FR/BE) and Valérian Goalec (FR/BE). Õllek presents her site-specific video installation 'Under Certain Circumstances (Static Synthetic 1.0)' (2018), which addresses the concept of territory and space through cognitive and natural processes.
Open: May 31st to June 30th, 2018
Address: Project Space Coherent, 9 rue Keyenveld, Brüssel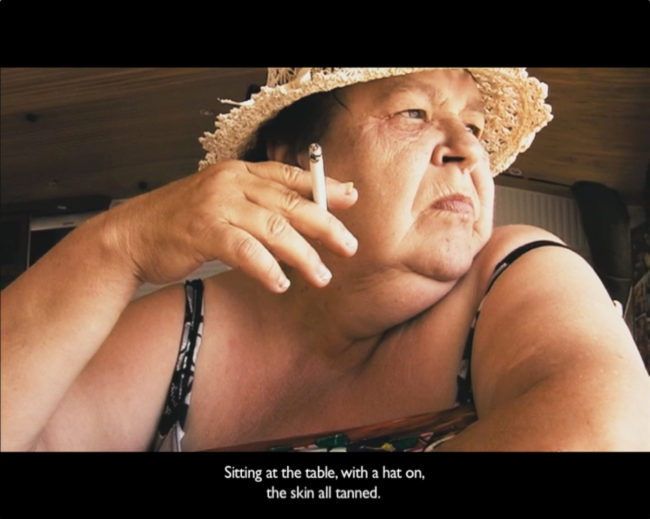 Flo Kasearu 'Two People by the Beach, Nothing Else', 2017, video still. Courtesy of the artist and Temnikova & Kasela Gallery
Flo Kasearu, Kris Lemsalu and Temnikova & Kasela gallery in Basel
Temnikova & Kasela Gallery will participate at LISTE art fair in Brussels with the works by Flo Kasearu and Kris Lemsalu. The gallery will be showing Flo Kasearu's video works 'Creative Estonia' (2012), 'Two People by the Beach, Nothing Else' (2017) and a selection from the new series 'Startup' (2018), which was recently presented in Tallinn at the exhibition 'Holes'. Kris Lemsalu will be showing new works from the ongoing series 'Immaterial Material Love', first started in 2008, and a new installation made specifically for the fair.
Open: June 11th to 17th, 2018
Address: Burgweg 15, Basel, Switzerland
Web: liste.ch
Jaan Toomik 'Oleg', 2010, video still. Courtesy of the artist and Temnikova & Kasela Gallery
Jaan Toomik in Dresden
Jaan Toomik's exhibition 'Oleg' will open in Kunsthaus Dresden in mid-June. The exhibition addresses the experience of compulsory military service under the authoritarian regime of the Soviet Union, as well as existential questions of violence. His works are based on an personal experience as well as the transformation of the Estonian society. The display consists of a selection of his videos and his most recent paintings.
Open: June 14th to July 22nd, 2018
Address: Kunsthaus Dresden, Rähnitzgasse 8, Dresden
Web: kunsthausdresden.de
'Solar Bodies' poster. Graphic design: Norman Orro
Norman Orro in Paris
Norman Orro will participate in a one-night show 'Solar Bodies' at the Orsay Museum in Paris, which is part of the programme of the exhibition 'Wild Souls. Symbolism in the Baltic States'. The happening is part of the 'Curieuse nocturne' series of events and is aimed at creating a dialogue between the early 20th century Baltic Symbolists and contemporary visual artists. Orro is participating in the exhibition as a graphic designer, creating an accompanying booklet and a visual essay.
Norman Orro's participation is supported by Outset Estonia.
Open: June 21st, 2018. The exhibition 'Wild Souls. Symbolism in the Baltic States' is open until July 15th
Address: Musée d'Orsay, 1 Rue de la Légion d'Honneur, Paris
Web: musee-orsay.fr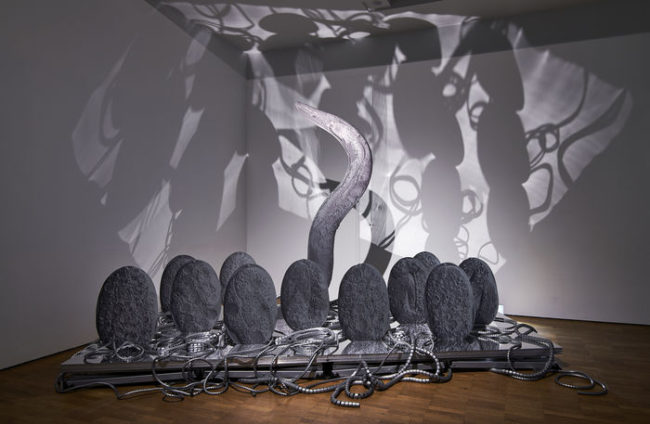 Katja Novitskova 'Pattern of Activation (embryogenesis)', 2018, installation detail. Courtesy of the artist, Kraupa-Tuskany Zeidler Gallery and Greene Naftali Gallery. Photo: Tõnu Tunnel/Kumu Art Museum
Katja Novitskova in London
Katja Novitskova's first solo show in London, 'Invasion Curves', will open on June 27th at the Whitechapel Gallery. According to curator Emily Butler "the artist creates immersive environments through 'the ocean of signs' of digital spheres". Novitskova's latest installation is a landscape that has been hit by a biotic crisis, where photographing and technology are used in a process of mapping the exploitation of life. On June 28th, there will be a conversation between Katja Novitskova, Joey Holder and Jenna Sutela at the gallery.
The project, created by Whitechapel Gallery and supported by Estonian Contemporary Art Development Center is part of the Republic of Estonia Centenary celebrations.
Open: June 27th to September 2nd, 2018. Opening on Wednesday, June 27th
Address: Whitechapel Gallery, 77-82 Whitechapel High St, London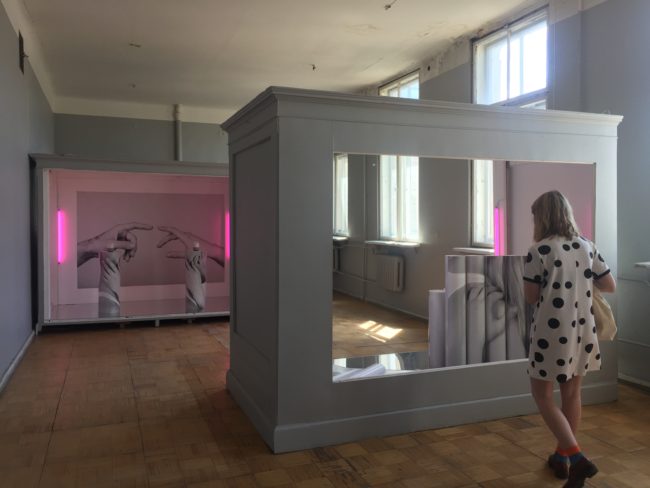 Marge Monko 'I Don't Know You, So I Can't Love You', 2018, installation view from RIBOCA1. Courtesy of the artist and Ani Molnár Gallery. Photo: Marge Monko
Estonian artists at Riga Biennial
Eight artists from Estonia have been invited to participate in the first edition of the Riga International Biennial of Contemporary Art RIBOCA. RIBOCA1 is subtitled 'Everything Was Forever, Until It Was No More' and its main curator is Katerina Gregos, who recently curated an exhibition 'The State Is Not A Work Of Art' at Tallinn Art Hall. From Estonia, Maria Kapajeva, Eve Kiiler, Karel Koplimets, Sandra Kosorotova, Marge Monko, Liina Siib, Ivar Veermäe and Jevgeni Zolotko will participate in the biennial.
Open: June 2nd to October 28th, 2018
Address: different venues in Riga
Web: rigabiennial.com
View of the ArtVilnius'17 fair. Source: ArtVilnius
Estonian galleries in Vilnius
This year, the ArtVilnius International Art Festival in Vilnius, taking place for the 9th time, is focusing on the Baltics. Estonian Contemporary Art Development Center is coordinating the largest participation of Estonian galleries and artists in a contemporary art fair: Avangard Gallery, Gallery Positiiv, the Estonian Union of Photography Artists, Haus Gallery, Okapi Gallery, Kogo Gallery, contemporary art platform Noar and artist Marko Mäetamm with his solo project will be present with their displays.
Open: June 7th to 10th, 2018
Address: Exhibition and Congress Centre Litexpo, Laisves 5, Vilnius, Lithuania
Web: artvilnius.com
Open in June:
Baltic contemporary art exhibition in Helsinki
Edith Karlson in Leipzig
Jaan Toomik in Amsterdam
Katja Novitskova and Anu Põder in Vilnius