Marianne Jõgi's installation at London Art Night
As part of the Republic of Estonia Centenary celebrations the Estonian Contemporary Art Development Center is proud to present the first project by an Estonian artist in the programme of London Art Night, the largest free contemporary art festival in London. During the festival, the audience has an opportunity to experience Marianne Jõgi's outdoor installation 'Interaural Contour I' at Battersea Park. The installation is accompanied by composer Ülo Krigul's sound piece 'Water Itself'.
'Interaural Contour I' is an intimate architectural installation, an acoustically active environment, whose mathematical structure promotes relaxation, wellbeing, and supports learning. Substantiated by neuroscientific research and drawing from artist Marianne Jõgi's background in music theory, sculpture, and engineering, the event offers a particular sensorial experience. Pointing to the connectivity between our inner vibrations and those in outer space, the project invites us to consider the reciprocity between the psychological and physical, the personal and environmental, as ultimately sustaining our healthful, earthly dwelling.
'Interaural Contour I' was first open to the public at the Estonian Open Air Museum last year. In London, the installation's principles of wakeful relaxation and contemplation will be extended outside of the artwork in the form of a soft seating and listening area, created in collaboration with curator Hanna Laura Kaljo.
London Art Night will take place on July 7th and 8th, and presents different art projects specifically commissioned for the festival. Last year, Art Night was visited by more than 75,000 people. Each year, Art Night invites a leading cultural institution to explore a different part of London.
This year, Art Night heads south of the river Thames, to South Bank, Battersea Power Station, Vauxhall, and Nine Elms. The institutional partner of the third edition of Art Night, which the organizers claim to be the most ambitious so far, is London's Hayward Gallery, with its director Ralph Rugoff leading the Art Night's curatorial team.
'Interaural Contour I' is open on Saturday, July 7th, from 6pm–1am and on Sunday, July 8th, from 11am–4pm. To get the best experience pre-registration is required (registration for Saturday, registration for Sunday). Walk-ins will be admitted depending upon capacity.
The project is presented by artist Marianne Jõgi, composer Ülo Krigul, curator Hanna Laura Kaljo, and the Estonian Contemporary Art Development Center.
Supported by the Government Office of Estonia, the Cultural Endowment of Estonia, the Estonian Ministry of Culture, and Outset Estonia. The event is part of the Republic of Estonia Centenary celebration's international programme.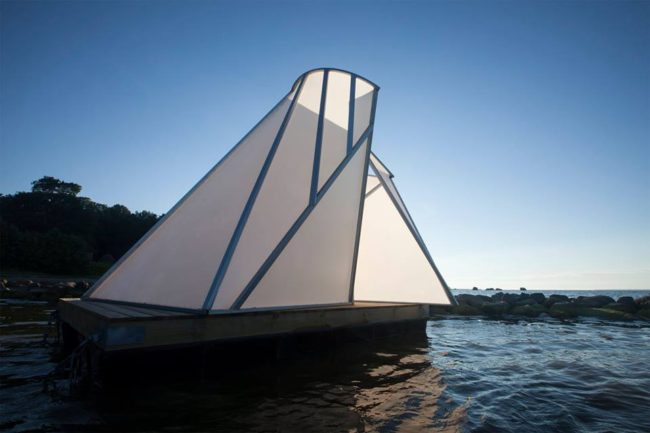 Marianne Jõgi 'Interaural Contour I', 2017, installation view at the Estonian Open Air Museum. Photo: Kristina Õllek
Additional information:
Kadi-Ell Tähiste
Estonian Contemporary Art Development Center
+37253541041
kadi-ell@ecadc.ee