May 2019 News
Kris Lemsalu 'Birth V – Hi and Bye', 2019, detail of the work. Courtesy of the artist, Temnikova & Kasela Gallery and Koppe Astner Gallery. Photo: Edith Karlson
Kris Lemsalu in Venice
At this year's Venice Biennale, Estonia will be represented by Kris Lemsalu, who will present her project 'Birth V – Hi and Bye' at the new location of the Estonian pavilion on Giudecca island. Lemsalu invited an international group of writers, artists and curators to work on her exhibition, including Andrew Berardini, Sarah Lucas, Irene Campolmi and Tamara Luuk. On the opening night of the exhibition, a ritual performance specifically created for this event will be presented by Kris Lemsalu, Roman Lemberg, Michael Kleine, Kyp Malone, Michiko Takahashi and Carola Caggiano. Estonia's participation in the Venice Biennale is coordinated by the Center for Contemporary Arts Estonia.
Open: May 11th to November 24th, 2019. Opening on Friday, May 10th at 5pm
Address: Estonian pavilion, c/o Legno&Legno, Giudecca 211, Venice
Web: birthv.com
Taavi Suisalu 'Waiting for the light', 2018. Courtesy of the artist. Photo: Taavi Suisalu
Taavi Suisalu in Wrocław and Berlin
Taavi Suisalu will participate in the 30th anniversary of the Wrocław Media Art Biennale in Poland. The biennale, titled 'Human Aspect', is mapping out the developments in art and technology over the last three decades, and presents high-tech devices that are usually inaccessible to the audience, along with artworks. In addition to Poland, Suisalu's works can also be seen in Germany, where he participates in the international group exhibition 'Futures of our Past' at the weisser elefant gallery in Berlin.
In Wrocław and Berlin, Suisalu presents his 2018 work 'Waiting for the light', which was also exhibited at his recent solo exhibition 'Light Between the Oceans' at Tallinn City Gallery.
Biennale in Wrocław:
Open: May 15th to July 27th, 2019
Address: Four Domes Pavilion, Wystawowa 1, Wrocław
Web: wro2019.wrocenter.pl
Exhibition in Berlin:
Open: May 18th to June 22nd, 2019
Address: galerie weisser elefant, Auguststraße 21, Berlin
Invitation to the exhibition 'Mother of Pearls'
Merike Estna in Mexico City
Merike Estna will open her solo exhibition 'Mother of Pearls' at the Karen Huber Gallery in Mexico City. The exhibition, curated by Alberto Rios de la Rosa, presents a new series of stained glass, paintings and ceramic vessels. In addition, there are a 100 paintings from the series 'Daily Paintings', a selection of sculptures as candles that were produced for the exhibition 'Disposable gloves guide' at the kim? contemporary art center in Riga, as well as the 2017 painting as a place for picnic 'Kneeling banana / angel / flew over my head / on the 7th floor / above the seabed'. 'Mother of Pearls' is Estna's second solo exhibition at the Karen Huber Gallery.
Open: May 16th to July 5th, 2019. Opening on Thursday, May 16th at 7.30pm
Address: Karen Huber Gallery, Calle Bucareli 120, Mexico City
Web: karen-huber.com
Maria Kapajeva 'The Bright Way', 2017, video still. Courtesy of the artist
Maria Kapajeva in Riga
During the Riga Photomonth, Maria Kapajeva's solo exhibition 'The Dream Is Wonderful, Yet Unclear' will open at the Latvian Museum of Photography. The exhibition was first exhibited during the 2017 Tallinn Photo Month at the Narva Art Residency. With this exhibition, Kapajeva researches the social heritage of the Kreenholm textile factory, which at some point provided work for 12,000 people, most of them women. The exhibition is inspired by interviews with the former textile factory workers and a digitized collection of family albums, calendar notebooks and memorabilia collected by the artist.
Open: May 16th to June 30th, 2019
Address: Latvian Museum of Photography, Marstalu 8, Riga
Web: fotomuzejs.lv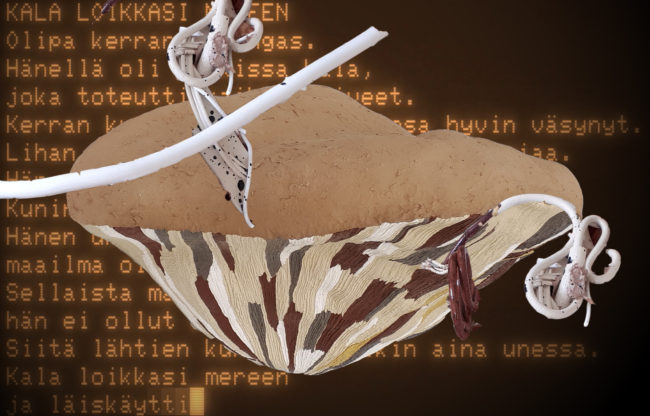 Laura Põld 'Natural Shelter', 2018–2019. Courtesy of the artist
Laura Põld in Fiskars
Laura Põld will participate in the Fiskars Village Art & Design Biennale in Finland. Põld presents her installation 'Natural Shelter' (2018–2019), created specifically for the art exhibition 'Beings with', curated by Jenni Nurmenniemi. The work consists of ceramic sculptures and video screens showing texts by poet Katrin Väli, which are a result of the collaboration between the poet and the artist. Sculptures of different clays and porcelain refer to some of the nest building techniques of birds and animals, as well as to the forms of plants and fungi.
The Fiskars Village Art and Design Biennale has been launched with the aim of bringing together artists, designers, local communities and audiences, and to encourage collaboration between professionals and amateurs.
Open: May 19th to September 15th, 2019
Address: The Threshing House & the Granary, Fiskars Village, Finland
Web: fiskarsvillagebiennale.com
An image from Diana Tamane's series 'Flower Smuggler', 2019. Courtesy of the artist
Kristina Norman and Diana Tamane in Riga
Kristina Norman and Diana Tamane will participate in the Survival Kit art festival in Riga. This year, the largest annual event of its kind in the Baltics is titled '10.1' and it explores the phenomenon of peripheralization, questioning the traditional division of the geopolitical and cultural space into center and periphery. Diana Tamane shows her series 'Flower Smuggler', which she started in 2016, and Kristina Norman presents her 2018 video 'Bring Back My Fire Gods'.
Open: May 23rd to June 30th, 2019
Address: Former Faculty of Physics, Mathematics and Optometry, University of Latvia, Zeļļu 2, Riga
Web: cca.lv
View of the ArtVilnius 2018 exhibition space. Source: ArtVilnius
Estonian galleries in Vilnius
Three Estonian galleries will participate in the 10th edition of the international art fair ArtVilnius. Okapi Gallery will present Kaupo Kikkas' project and book 'ANSEL' as well as Temuri Hvingija's architectural street photo series 'The Boundless Cities'. Kogo Gallery will bring works by Kati Saarits, Kristi Kongi and Nora Mertes to Vilnius. EKA Gallery, participating for the first time, will show works by Andre Joosep Arming, Angela Ramirez Fellowes and Katrin Enni, all MA degree students of contemporary art at the Estonian Academy of Arts.
In addition to the galleries, the contemporary art platform NOAR will present Elina Vitola's works. Vitola won the Nordic and Baltic Young Artist Prize in 2018.
Open: May 30th to June 2nd, 2019
Addresss: LITEXPO Exhibition Center, Laisves 5, Vilnius
Web: artvilnius.com
Karel Koplimets. Photo: Kaisa Maasik
Karel Koplimets in Luxembourg
At the end of May, Karel Koplimets will attend the residency of the European Investment Bank Institute in Luxembourg. During the 6-week residency, he plans to focus on a new project, in which he will continue to explore cross-border workers. More than 40% of workers in Luxembourg are foreigners and tens of thousands of them commute every day between their work and home countries. Koplimets' residency is part of the European Investment Bank Institute's Artist Development programme, the mentor of which in 2019 is Finnish artist Jorma Puranen.
Open: end of May to early July, 2019
Address: EIB residency, Luxembourg
Web: institute.eib.org
Open in May:
Alice Kask, Neeme Külm, Jass Kaselaan and Holger Loodus in Joensuu (until May 5th)
Marge Monko in Essen (until May 5th)
Marko Mäetamm in Riga (until May 11th)
Marko Mäetamm in Kaunas (until May 18th)
Flo Kasearu in Warsaw (until May 18th)