November 2018 News
Mari-Leen Kiipli 'Passiflora', 2017, exhibition view at the Hobusepea Gallery. Courtesy of the artist
Mari-Leen Kiipli and the Estonian Union of Photography Artists in Turin
The Estonian Union of Photography Artists presents Mari-Leen Kiipli's video installation 'Passiflora' at The Others art fair in Turin, Italy. Kiipli's video installation Passiflora creates an environment of transparencies and reflections, using slow-motion HD videos on translucent screens and semi-transparent mirrors that propose multiple perspectives of the space. The starting point for the work was the discipline of nature documentaries. Kiipli is fascinated by the mixture of scientific facts, conscience and human values and tries to approach the nature documentary as a series of personal encounters and sudden gifts. The Others art fair, taking place for the 8th time, is held during the week dedicated to contemporary art in Turin and is the main independent fair in Italy focused on international emerging artists.
Open: November 1st to 4th, 2018
Address: Complex of the former Regina Maria Adelaide Hospital, Lungo Dora Firenze 87, Turin
Web: theothersfair.com
Kaupo Kikkas 'Icarus' from the series 'Homo Deus', 2018. Courtesy of the artist and Okapi Gallery
Iris Kivisalu, Riina Varol, Kaupo Kikkas, Temuri Hvingija and Okapi Gallery in Kiev
Okapi Gallery will participate in the Photo Kyiv art fair in Ukraine, featuring works by Iris Kivisalu, Riina Varol, Kaupo Kikkas and Temuri Hvingija. All the works presented in Kiev are characterized by social sensitivity and the study of the relationship between people and the environment. This year's Photo Kyiv fair, taking place for the second time, presents more than 500 works from 20 galleries from Ukraine and elsewhere in Europe.
Open: November 1st to 4th, 2018
Address: Chicago Central House, Antonovycha street  44, Kiev
Web: photokyiv.com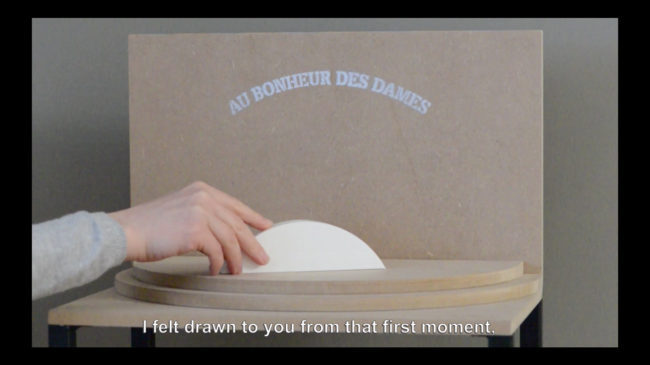 Marge Monko 'Dear D', 2015, video still. Courtesy of the artist and Ani Molnár Gallery
Estonian artists' moving image programme in Glasgow
Exhibition-screening 'Trial and Error' presenting Estonian artists' moving images will be on view for a week at Tramway, Glasgow. The thematic framework of the exhibition-screening derives from the topic of everydayness and human attempts in coping with it. The group show opens up daily life and simple routines caught in a constant circulation of trials and errors in various ways. The programme features works by Flo Kasearu, Mari-Leen Kiipli, Paul Kuimet, Laura Kuusk and Camille Laurelli, Marge Monko, Mark Raidpere, Liina Siib and Ingel Vaikla. The programme is presented by the Estonian Union of Photography Artists (Foku) in collaboration with the Estonian Embassy in London and is curated by Kulla Laas and Kaisa Maasik.
Curatorial tour of the programme will take place on November 12th at 3pm and at 7pm, on the same day, a TalkSeePhotography event accompanying the exhibition will be held at CCA Glasgow, consisting of a screening of artists' films curated by multidisciplinary artist Marge Monko and followed by a discussion on the topic 'Contemporary Love'.
Open: November 12th, 2018 to November 18th, 2018
Address: Tramway, 25 Albert Dr, Glasgow
Web: tramway.org
Kris Lemsalu. Photo: Liisa Kivi
Kris Lemsalu in London and Vienna
Kris Lemsalu will open her solo exhibition '4LIFE' at one of the newest exhibition spaces in London, the recently launched Goldsmiths Centre for Contemporary Art at the Goldsmiths, University of London. Lemsalu's first solo show in London includes her latest installations and a performance on the opening night. The exhibition is part of the international programme dedicated to the centenary of the Republic of Estonia.
In mid-November, Lemsalu also opens a solo show 'Keys Open Doors' at the Vienna Secession creating sculptures and installations that fuse the animal kingdom with humankind and nature with the artificial.
Exhibition in London:
Open: November 23rd, 2018 to February 3rd, 2019
Address: Goldsmiths Centre for Contemporary Art, St James', New Cross, London, SE14 6AD
Web: goldsmithscca.art
Exhibition in Vienna:
Open: November 16th, 2018 to January 20th, 2019
Address: Secession, Friedrichstraße 12, Vienna
Web: secession.at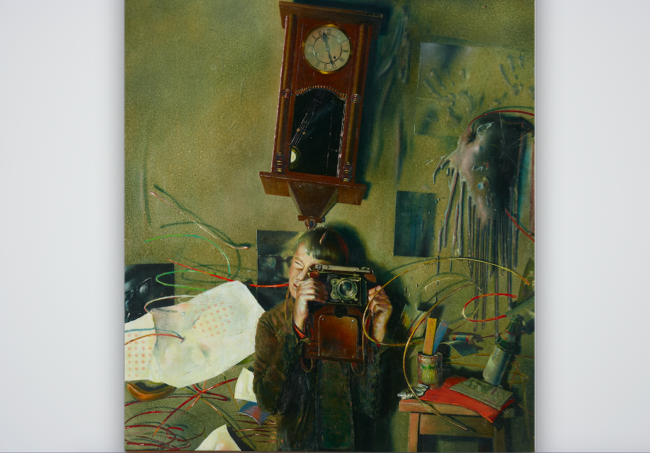 Rein Tammik 'Boy with the camera', 1981. Oil. Courtesy of the artist and the State Tretyakov Gallery
Estonian artists in Moscow
The State Tretyakov Gallery in Moscow will open a comprehensive exhibition of Estonian art 'Border Poetics. Estonian art 1918–2018'. The center of the display, which introduces a cross-section of the last 100 years, is a selection of works by Estonian artists that have made it to the Tretyakov Gallery collection between 1945 and 1989. The exhibition can be described as a concentrated insight into Estonian art history, which brings out, in addition to the Soviet period, important figures from the pre-World War II era and the beginning of the 21st century. The curators of the exhibition, organized in collaboration with Kumu Art Museum, are Eha Komissarov and Tatjana Zelukina.
The exhibition includes works by Eduard Wiiralt, Peet Aren, Eerik Haamer, Arnold Akberg, Aleksander Krimsi, Felix Randel, Rein Tammik, Elmar Kits, Ülo Sooster, Ando Keskküla, Jüri Okas, Lilli-Krõõt Repnau, Paul Sontag, Malle Leis, Anu Põder, Marge Monko, Dénes Farkas, Anna Škodenko, Krista Mölder and Ene-Liis Semper.
There is a train that takes visitors to the exhibition opening from Estonia.
Open: November 22nd, 2018 to January 27th, 2019. Opening on Wednesday, November 21st at 7pm
Address: State Tretyakov Gallery, Lavrushinsky Lane, 119017, Moscow
Web: tretyakovgallery.ru
Jaanus Samma and Marko Raat '3.50', 2015, video still, installation view. Courtesy of the artists and Temnikova & Kasela Gallery. Photo: Reimo Võsa-Tangsoo
Jaanus Samma in Prague
Jaanus Samma will take part in the group exhibition 'Based on a True Story' at the gallery MeetFactory in Prague. The exhibition features works by three artists from Northern Europe and maps out people's interest in true stories, at same time investigating the typical narrativity and documentary style of this region's contemporary art. Samma presents his works from the 2015 Venice Biennale project 'NSFW. A Chairman's Tale'. The curator of the exhibition is Eva Riebová, who visited Tallinn in 2017 during the Curatorial Program for Research programme.
Open: November 23rd, 2018 to January 27th, 2019. Opening on Friday, November 23rd
Address: MeetFactory, o. p. s. Ke Sklárně 3213/15, Prague
Web: meetfactory.cz
Open in November:
Baltic contemporary art exhibition in Helsinki
Estonian artist at the Baltic Triennial in Riga (until November 18th)
Diana Tamane and Kristina Õllek in Winterthur
Kati Ilves' curatorial exhibition in Nantes
Alexei Gordin in Vilnius (until November 13th)
Dénes Farkas in Ljubljana (until November 9th)
Kris Lemsalu in Bremen (until November 18th)
Krista Mölder in Espoo (until November 18th)
Liina Siib in Helsinki (until November 25th)
Marge Monko in Hong Kong (until November 25th)