November 2019 News
Hedi Jaansoo 'Everything's instantly a memory and tiny golden things on the floor', 2019. Exhibition view at the Draakon Gallery. Courtesy of the artist
Hedi Jaansoo, Tarvo Hanno Varres and the Estonian Union of Photography Artists in Turin
Estonian Union of Photography Artists (Foku) presents Hedi Jaansoo and Tarvo Varres at The Others art fair in Turin. At The Others Jaansoo's 'Everything's instantly a memory and tiny golden things on the floor' and Varres's 'The Shadow of a Flame' are shown next to each other. The two artworks, both dominant on their own, are presented together in this context to reveal the delicate balance in the spatial and temporal conditions of a fair. The dialogue between them appears through accuracy, fragility and abundance, to create the experience of tension. The Others is the main independent fair in Italy dedicated to international emerging artists, taking place for 9th time in 2019 as part of the Turin Art Week.
Open: October 31st to November 3rd 2019
Address: Former military hospital Alessandro Riberi, Corso IV Novembre 80a, Turin, Italy
Web: theothersfair.com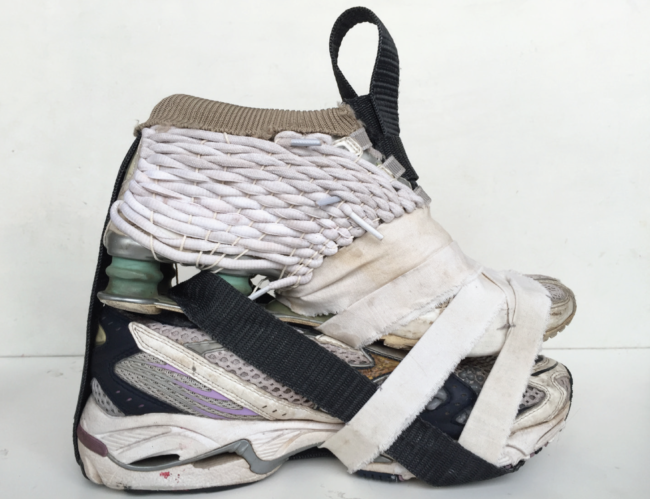 Shoes from Kärt Ojavee's collection '58.595272,25.013607', 2018. Courtesy of the artist
Kärt Ojavee in Riga
Kärt Ojavee will take part in Tobias Kaspar's exhibition 'THE ESTATE / AUTUMN' at kim? Contemporary Art Centre in Riga. The exhibition is curated by Zane Onckule and it is the second chapter of kim?'s summer project 'THE ESTATE', which took place in an abandoned summer cottage in rural Latvia. For 'AUTUMN' 'THE ESTATE' becomes more theatrical, turning the exhibition space into architectural maze without walls. Kärt Ojavee will show fragments from her collection '58.595272,25.013607' which was first shown at the VI Artishok biennial in Tallinn.
Open: November 1st to December 15th 2019
Address: kim? Contemporary Art Centre, Sporta iela 2, Riga
Web: kim.lv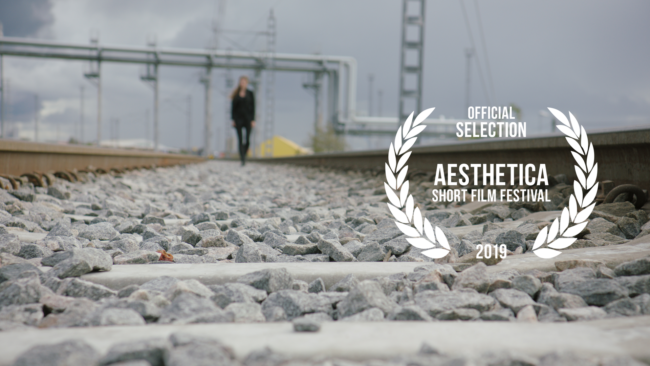 Len Murusalu 'Inherited Memories', 2019, film still. Courtesy of the artist. Production company: ChronoLens
Len Murusalu in York
Len Murusalu is participating in the 9th edition of Aesthetica Short Film Festival held in York. Murusalu's short film 'Inherited Memories' (2019), will be premiered as part of the BAFTA-qualifying festival's official Artists' Films programme. The film's Baltic premier will be included in the Tallinn Black Night Film Festival's Shorts programme.
Open: November 6th to 10th 2019
Address: Various venues in York
Web: asff.co.uk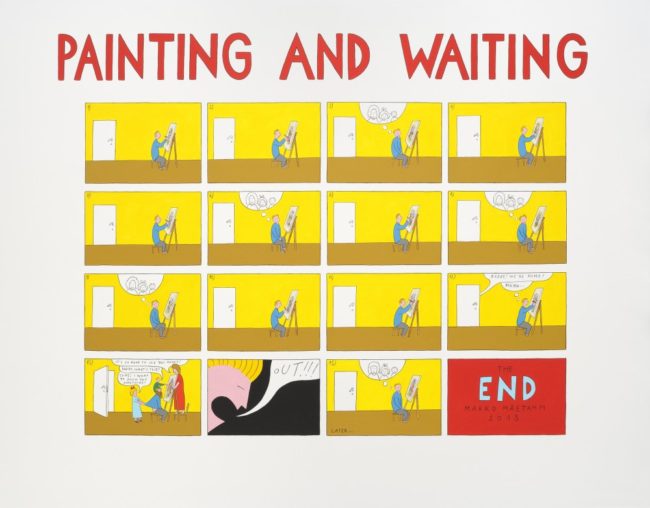 Marko Mäetamm 'Painting and Waiting', 2013. Courtesy of the artist and Temnikova & Kasela Gallery
Marko Mäetamm in Moscow
Marko Mäetamm will take part in a group exhibition 'Biography. A Model Kit' at  the Moscow Museum of Modern Art (MMOMA). The exhibition is curated by Viktor Misiano and Anna Zhurba and it is the 5th session of the large-scale interdisciplinary project 'Human Condition'. At MMOMA, Mäetamm will present a spatial installation ''FAMILY STORIES' consisting of paintings, animations, wall texts and objects.
Parallel to the group exhibition, Marko Mäetamm's solo show 'SERIOUS THINGS' opens at the Iragui Gallery in Moscow, presenting his recent graphic series and individual drawings. This is the artist's second solo show at Iragui after his 2014 project 'LOVE, LOVE, LOVE || Family Stories and Many Other Stories'.
Exhibition at MMOMA:
Open: November 13th 2019 to February 2nd 2020
Address: MMOMA, Gogolevski 10, Moscow
Web: mmoma.ru
Exhibition at Iragui Gallery:
Open: November 13th 2019 to January 13th 2020
Address: Iragui Gallery, Malaya Polyanka 7-5, Moscow
Web: iragui.com
Open in November:
Kärt Ojavee and Johanna Ulfsak in Espoo
Andres Koort, Arne Maasik, Urmo Raus and Helen & Sandra Sirp in New York (until November 10th)
Holger Loodus in Turku (until November 17th)
Kris Lemsalu in Venice (until November 24th)
Timo Toots in Seoul (until November 29th)