October 2017 News
Kris Lemsalu 'Immaterial Material Love' (2017). Courtesy of the artist, Temnikova & Kasela Gallery and Koppe Astner Gallery. Photo credit: Temnikova & Kasela Gallery
Kris Lemsalu in London
Kris Lemsalu is the first Estonian artist to participate at Frieze London. The artist is showing at Frieze with Glasgow-based gallery Koppe Astner, who started representing Lemsalu this year in addition to Temnikova & Kasela Gallery in Tallinn. Lemsalu's three ceramic works from the series 'Immaterial Material Love' and a new work created for the fair will be on view in the fair's Focus section.
David Roberts Art Foundation commissioned a new performance from Kris Lemsalu for the '(X) An Evening of Performances' event taking place at the legendary KOKO concert venue during DRAF's 10th anniversary celebration that will see Marvin Gaye Chetwynd, Laure Prouvost, Jamilla Johnson-Small ning Rosie Hastings & Hannah Quinlan performing.
(X) An Evening of Performances:
Open: October 3rd, 2017 from 7pm-1am. Kris Lemsalu at 8.55pm
Address: KOKO concert venue, Camden High St 1A, Kings Cross, London
Web: davidrobertsartfoundation.com
Art fair Frieze London:
Open: October 5th to October 8th, 2017
Address: Regent's Park, London
Web: frieze.com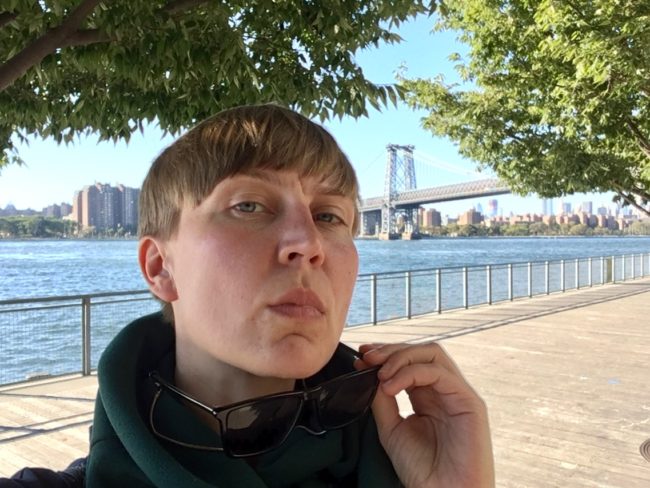 Anu Vahtra in New York
Anu Vahtra in New York
Anu Vahtra's 2-month residency at the International Studio and Curatorial Program (ISCP) in New York has started in the beginning of October. In preparation for her forthcoming exhibition, Anu Vahtra will be using her time at the ECADC-ISCP residency for producing her work for the upcoming Performa '17 Pavilion Without Walls Estonia. The ECADC-ISCP residency also involves regular studio visits with curators and participation in the annual ISCP Open Studios event.
Open: October 1st to November 30th, 2017
Aadress: 1040 Metropolitan Avenue, Brooklyn, NY 11211, New York
Web: iscp-nyc.org
Sigrid Viir 'Hans_55' (2016), fragment from the installation. Courtesy of the artist and Temnikova & Kasela Gallery
Sigrid Viir, Marko Mäetamm and Temnikova & Kasela Gallery in Paris
Temnikova & Kasela Gallery is participating in the 3rd edition of the contemporary art fair Paris Internationale. In Paris, the gallery will show works by Sigrid Viir and Marko Mäetamm. Marko Mäetamm will present a selection of works from the exhibition 'I'm Only Streaming' and Sigrid Viir presents her 2016 photography installation 'Snapshot photos of the Moon, black holes filled with sugar cube, snowball as a noble gift, Polish apple in a lift'.
Open: October 18th to October 22nd, 2017
Address: Rue Beranger 11, Paris
Peeter Laurits 'Nulla dies sine linea' (2015). Courtesy of the artist and Vaal Gallery
Peeter Laurits in Groningen
Peeter Laurits is taking part in the international photography festival Noorderlicht in Groningen. This year's festival, taking place for the 24th time, is titled 'NUCLEUS: Imagining Science' and is focusing on the role of science in art. Peeter Laurits is showing 9 works from the series 'Logos & Mythos' and 'Codex Naturalis', as well as a video work 'Gordian Knot'.
Open: October 22nd to November 26th, 2017
Address: Different venues in Groningen
Web: noorderlicht.com
Paul Kuimet '2060' (2014), exhibition view. Photo credit: Paul Kuimet
Taavi Suisalu, Sigrid Viir, Paul Kuimet, Marge Monko, Ivar Veermäe and Katja Novitskova in Brussels
'The archeology of the screen. The Estonian Example', a group exhibition of Estonian artists at the Bozar Centre of Fine Art is open until mid-November. Curated by Eha Komissarov, the exhibition analyses the relationship between contemporary art and new media in the so-called e-Estonia. The exhibition is organized by the Art Museum of Estonia and is part of the program dedicated to Estonia's celebration of its centennial in 2018.
Open: September 14th to November 12th, 2017
Address: Bozar Centre for Fine Arts, Rue Ravenstein 23, 1000 Brussels
Web: bozar.be