October 2018 News
Artist Paul Kuimet
Paul Kuimet in New York
Paul Kuimet is participating in the ISCP program in New York in October and November. During the residency Kuimet plans to make preparations for a new experimental film by studying necessary archival materials and working in the photographic archives of the Metropolitan Museum of Art. An important part of the ISCP residency are regular studio visits with the curators and taking part in the annual event of open studios.
Open: October to November, 2018
Address:  ISCP New York, Metropolitan Avenue 1040, New York
Web: iscp-nyc.org
Flo Kasearu 'de(fence)', 2014, video still. Courtesy of the artist and Temnikova & Kasela Gallery
Flo Kasearu, Kristina Norman, Jaan Toomik and NO99 in Dresden
At the beginning of the month, the exhibition 'FREIHEIT ZUR FREIHEIT II' will open in Dresden at Albrechtsberg Palace. It explores art, democracy and the conditions of freedom. Organized by the Dresden Art House, the exhibition features works by Flo Kasearu, Kristina Norman and Jaan Toomik, as well as a film 'Ash and Money' (2013) by NO99, among others.
The exhibition is accompanied by a program of conversations, concerts, workshops and guided tours, including:
Artist talk with Kristina Norman and Flo Kasearu 'ARE WE WRONG TO BE HAPPY…?' on Friday, October 5th at 6pm
A panel discussion 'FREEDOM OF WHOM?' with NO99 dramaturge Laur Kaunissaare on Sunday, October 7th at 5pm.
Open: October 3rd to 28th, 2018
Address: Albrechtsberg Palace, Bautzner Str. 130, Dresden
Web: kunsthausdresden.de
A work from Iris Kivisalu's series 'Porcelain China', 2018. Courtesy of the artist
Iris Kivisalu in London
Iris Kivisalu will participate in The Other Art Fair in London, presenting 'Porcelain China' (2018), a series of 10 works. The main organizer of the fair, which takes also place in Chicago, Los Angeles, New York and Sydney, is the Saatchi online art gallery. The fair's previous London edition was visited by over 15,000 people.
Open: October 4th to 7th, 2018
Address: Victoria House, Southampton Row, WC1A 2QP, London  / The College, Old Central St Martins Building, WC1B 4AP, London
Web: theotherartfair.com
The Cotton Factory
Peeter Laurits in Hamilton
Peeter Laurits starts a one-month residency at the Cotton Factory art center in Hamilton, Canada. The residency starts mid-October and is part of the artists' exchange project between the Estonian Artists' Association and Hamilton Arts Council. Artists are sent to reside in Hamilton, Ontario and Tallinn, thereby encouraging artists' personal development and exchanging contacts. During the residency, Peeter Laurits will have artist talks in various locations in the Province of Ontario: Hamilton, Toronto, Ottawa, Montreal and Buffalo.
Open: October 15th to November 15th, 2018
Address: The Cotton Factory, 270 Sherman Ave N, Hamilton
Web: cottonfactory.ca
A work from Eve Kiiler's series 'Looking Through the Windows', 2018. Courtesy of the artist and Gallery Positiiv
Eve Kiiler, Vivian Ainsalu, Ülle Saatmäe, Meeli Laidvee, Tanel Verk and Gallery Positiiv in Paris
Gallery Positiiv will take part in the international art fair Paris Contemporary Art Show (P/CAS). The gallery will present a curated selection of recent works by Eve Kiiler, Vivian Ainsalu, Ülle Saatmäe, Meeli Laidvee and Tanel Verk.
Open: October 18th to 21st, 2018
Address: Le Carreau du Temple, 4 Rue Eugéne Spuller, Paris
Web: yia-artfair.com
Diana Tamane 'Typology of touch', 2015, installation view at Tartu Art House. Courtesy of the artist. Photo: Patrik Tamm
Diana Tamane and Kristina Õllek in Winterthur
Works by Diana Tamane and Kristina Õllek are included in the group exhibition '25 Years! Shared Histories, Shared Stories', celebrating the 25th anniversary of Fotomuseum Winterthur in Switzerland. Diana Tamane presents her 'Typology of touch' (2015) and Kristina Õllek 'WHEN YOU HAVE THE OBJECT ITSELF IN FRONT OF YOUR EYES / Poppositions' (2017). Both works belong to the museum collection as a result of the collaboration between Outset Estonia and the Estonian Photographic Art Fair in 2017.
Open: October 20th, 2018 to February 10th, 2019. Opening on Friday, October 19th at 6pm
Address: Fotomuseum Winterthur, Grüzenstrasse 44 + 45, Winterthur
Website: fotomuseum.ch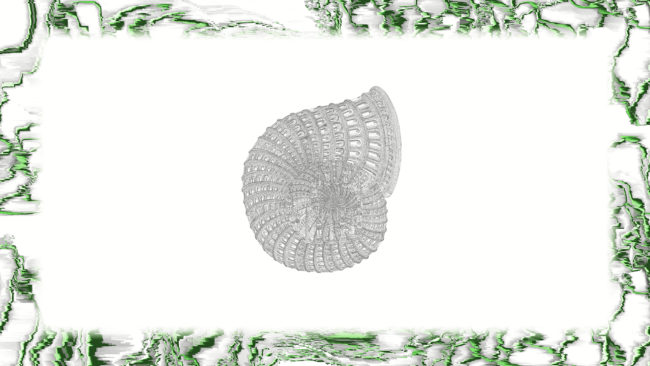 Vello Vinn 'Rockets', 1971. Courtesy of the artists and the Art Museum of Estonia
Kati Ilves's curatorial exhibition in Nantes
In Nantes, the international group exhibition 'Ascending from the Liquid Horizon', curated by Kati Ilves, will open at the cultural center le lieu unique. Taking place in Nantes, the birthplace of Jules Verne, the exhibition examines the dissolution of once-courageous fictitious narratives in the contemporary corporative and technologically advanced world. Included are works by Estonian artists Katja Novitskova, Kristina Õllek, Norman Orro, Laura Põld, Taavi Suisalu and Vello Vinn.
The exhibition is accompanied by a book which is released in collaboration with CURA.BOOKS, including texts by Patrick Gyger, Bas Hendrikx, Kati Ilves, Nat Muller and Jaak Tomberg.
Open: October 21st, 2018 to January 6th, 2019
Address:  le lieu unique, 2 Rue de la Biscuiterie, Nantes
Web: lelieuunique.com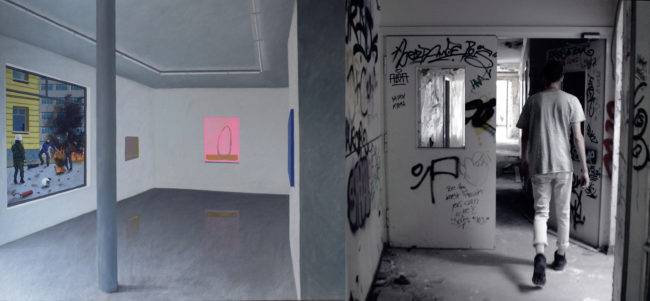 Alexei Gordin 'Do you feel safe here?', 2018, collage of artworks. Courtesy of the artist
Alexei Gordin in Vilnius
Alexei Gordin's solo exhibition 'Artists, galleries and abandoned spaces' will open at Pamėnkalnio Gallery in Vilnius. The central idea of the exhibition was born in Berlin during the SomoSe residency, which was part of the Young Painter Prize that Gordin won last year. Gordin will present his video performances and paintings in which the idealist and commercialized art world meet abandoned places.
Open: October 24th to November 13th, 2018
Address: Pamėnkalnio Gallery, Pamėnkalnio 1, Vilnius
Web: dsgalerija.lt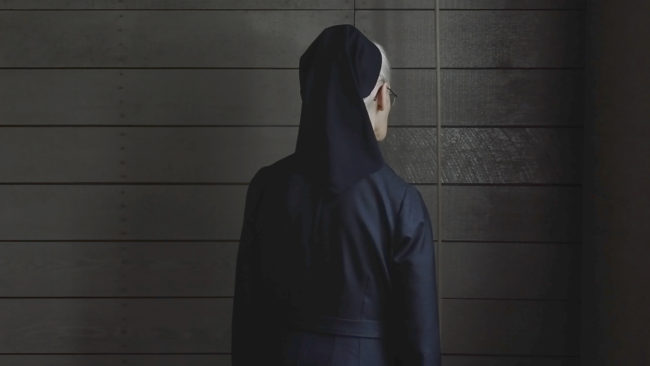 Ingel Vaikla 'Roosenberg', 2017, film still. Courtesy of the artist
Ingel Vaikla in Vienna
Ingel Vaikla will participate in an international group exhibition 'Antarctica. An Exhibition about Alienation' at Kunsthalle Wien. The exhibition is curated by Vanessa Joan Müller and Nicolaus Schafhausen and focuses on alienation in contemporary society by mapping out this phenomenon and the underlying patterns through the works of 15 artists. Ingel Vaikla presents her 2017 short film 'Roosenberg'.
Open: October 25th, 2018 to February 17th, 2019
Address: Kunsthalle Wien, Museumsplatz 1, Vienna
Web: kunsthallewien.at
Open in October:
Baltic contemporary art exhibition in Helsinki
Estonian artist at the Baltic Triennial in Riga
Estonian artists at the Riga Biennial
Estonian artists at the European Central Bank in Frankfurt
Jaan Toomik and Ene-Liis Semper in Vienna (until October 13th)
Sigrid Viir in Cincinnati (until October 7th)