Tallinn Tuesday on Tuesday, 29 March
For a second consecutive year, Estonian Contemporary Art Development Center (ECADC) collaborates with Tallinn Music Week (TMW), one of the Europe's leading festivals of music and urban culture, on the arts programme for the festival week. TMW Arts, coordinated by ECADC, centers around Tallinn Tuesdays – a series of joint opening events among a group of Tallinn galleries. On Tuesday, 29 March, all five participating galleries will be open for extended hours from 5 to 9 pm with exhibitions and arts projects specially commissioned for TMW Arts.
The evening begins 5 pm at EKA gallery (Vabaduse väljak 6/8, enter through the courtyard of Tallinn Art Hall), where Francisco Martinez and Lilli-Krõõt Repnau, curators of Place Oddity introduce their exhibition in both English and Estonian. The exhibition questions space through the underlying notions of identity, agency, and normality. Exhibiting artists include Inmates of Tallinn Prison, Flo Kasearu, Mihkel Kleis, Triin Pitsi, Lilli-Krõõt Repnau, Paco Ulman, Ingel Vaikla, Vello Vinn, and Kristina Õllek.
Following this, at 5.30 pm, a collaborative project M_M_M_M by photographer Temuri Hvingija, craftsmen Rait Siska and Risto Tali, and performance artist Erik Alalooga will open with a private viewing at Okapi gallery (Niguliste 2). The exhibition introduces a variety of techniques and technologies derived from photography, blacksmithing and metalworking, and music. The Russian electronic musician Fjordwalker and DJ Kashel will also play a live set at the exhibition opening.
From 6 pm onwards, also on view in the Old Town is the exhibition of Helena Keskküla and Art Nõukas at Hobusepea gallery (Hobusepea 2), titled O' why do we play this game. Both graduates of the installation and sculpture department of the Estonian Academy of Arts, the artists focus on the purpose of playing games. Their collaboratively-created installations and videos have previously been on view at their exhibition The Logical Song.
Temnikova & Kasela gallery (Lastekodu 1) will open its doors at 7 pm with Import Export, an exhibition by Sigrid Viir, photographer and installation artist, and Jimmy Limit, an Estonian Canadian artist who also works mainly in photography. The exhibition addresses the notions of import and export in the most general sense of art transport from one continent to another, customs procedures, and the artists' nationality. However, the notions of import and export could also examine in relation to the medium of photography and the widespread use and distribution of photographs, including digital file transfers. The exhibition at Temnikova & Kasela has been generously supported by Artproof Grant Estonia 2016.
The evening concludes at 8 pm at Rundum artist-run space (in the former ARS building, Pärnu mnt 154) with  Memory and Movement, an exhibition organised by the critical and discursive urban platform Urbiquity that employs both urban theory and creative practice in creating new, interdisciplinary research. Memory and Movement consists of three projects that each deal with global political and economic migration on a personal level and also more general levels.
All exhibitions will remain open throughout Tallinn Music Week from Wednesday, 30 March to Sunday, 3 April during each gallery´s usual opening hours.
In addition to Tallinn Tuesdays, TMW Arts programming also includes guided tours of exhibitions, TMW Talks, a daily programme of debates and discussions, and an art contest for emerging artists.
The full TMW Arts programme is available here.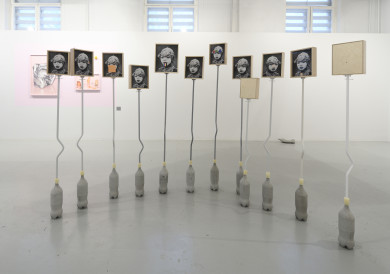 Sigrid Viir and Jimmy Limit, installation view at Temnikova & Kasela, Tallinn, 2016. Courtesy: the artists, Temnikova & Kasela, Tallinn. Photo: Stanislav Stepaško